Bungay Fire Brigade "Station 77"



Serving West Woodstock and Woodstock Valley Since 1938
4/28/16  FIRE DANGER (HIGH) NO BURNING ALLOWED
Thank you to everyone who made our Spring Chicken BBQ a great success 
We will see you on OCT. 1st for our Fall BBQ.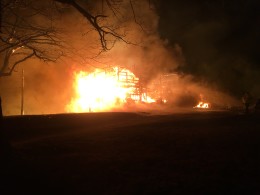 Red Head Hill Road Fire UPDATE:
On March 26 2016 there was a structure fire at 124 Red Head Hill Road in Woodstock.   This fire destroyed a residential dwelling, barn, outbuildings and farm equipment.  Approximately 50 animals perished in the fire.
According to Woodstock Fire Marshal, Richard Baron there is still an ongoing investigation with the Woodstock and State Fire Marshal Offices.  The cause of the fire is still deemed "Undetermined" with a MORE PROBABLE than not of intentional human hand / open flame for the ignition source (arson).
As of today (March 30, 2016) Fire Marshal Baron posted the fire scene with the Connecticut Arson Tip Award Program that offers up to $2500.00 for information leading to the arrest, conviction, or prevention of an arson fire.  Anyone who has any information about this fire is asked to please call the Connecticut Arson Hot Line at 1-800-84ARSON or 1-800-842-7766

We need YOU
Be a part of Neighbors helping Neighbors.
We need Firefighters, and EMT's.  Don't have any training?  We will train you.
Don't want to do Firefighting or EMS?  We can use help with fundraising, paper work, open houses and more.
Have a little time?  Have a lot of time?  We need YOU!!!  Click on contact and fill out the form.

Who are we
The Bungay Fire Brigade, located in West Woodstock, CT. is a group of women and men who are  highly motivated and trained volunteer professionals.
We respond to fire, rescue, medical emergencies and hazardous materials incidents 24/7/365
We serve the residents of West Woodstock, Woodstock Valley and Kenyonville sections of town.  We provide mutual aid to the rest of the Town of Woodstock and surrounding towns.
We hope you enjoy our website and come back often.  Please feel free to contact us via our contact page and follow us on our social media pages.
Neighbors helping Neighbors